Fall Cake Ideas – Topiary Tree Tutorial- Learn How to Make Cake
By Nicole Lang
Looking for some fresh fall cake ideas? Go on a wonderful journey with Nicole Lang as she shows you are to make this topiary tree.
YOU WILL NEED:
2 Days ahead-
2 dozen   2", 3", 4"  pre-decorated assorted fall theme sugar cookies
Make extra for breakage!
6   1" Fondant Pumpkins
12   ½" Fondant Acorns
Optional Materials
Wired Ribbon
Scissors
Urn or decorative Pot – 5" wide at the mouth
12" Styrofoam Cone Topiary Form with a 6" base
Extra Styrofoam
Ivory Colored Swiss Meringue Buttercream Icing
Large Icing Spatula
Piping Bag
1M Star Tip
Craft Knife
Red Disco Dust
Floral Moss
STEP ONE: PREPARE TREE FOR URN  – learn how to make cake
Trim base with craft knife if needed or add extra styrofoam. ↓
Place urn and secure by pushing down the foam- about 1-2" deep. The tighter the better.↓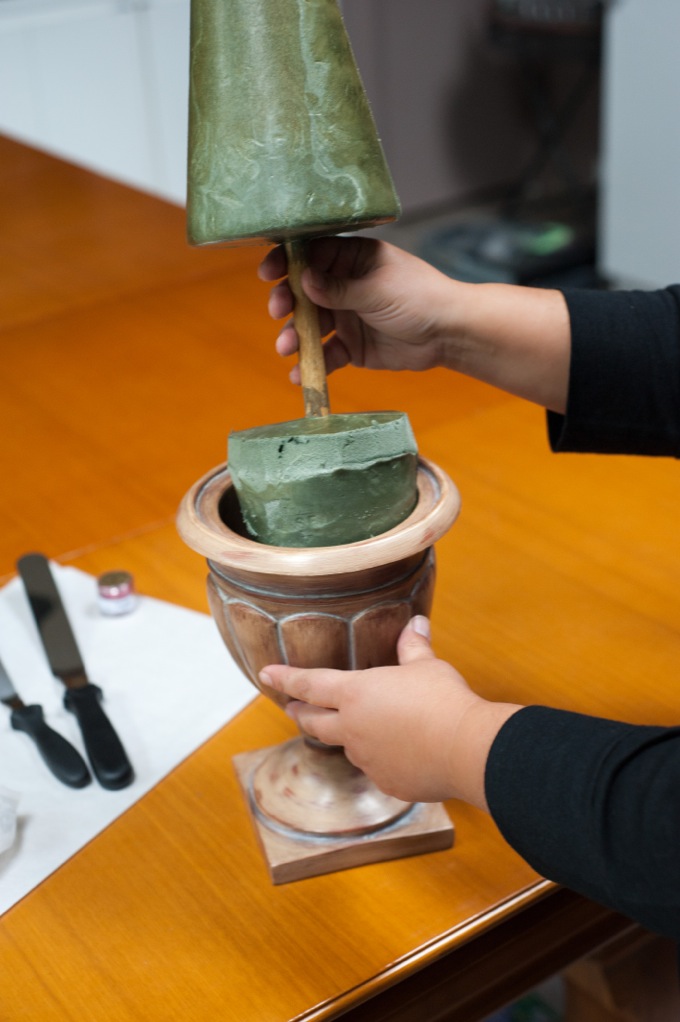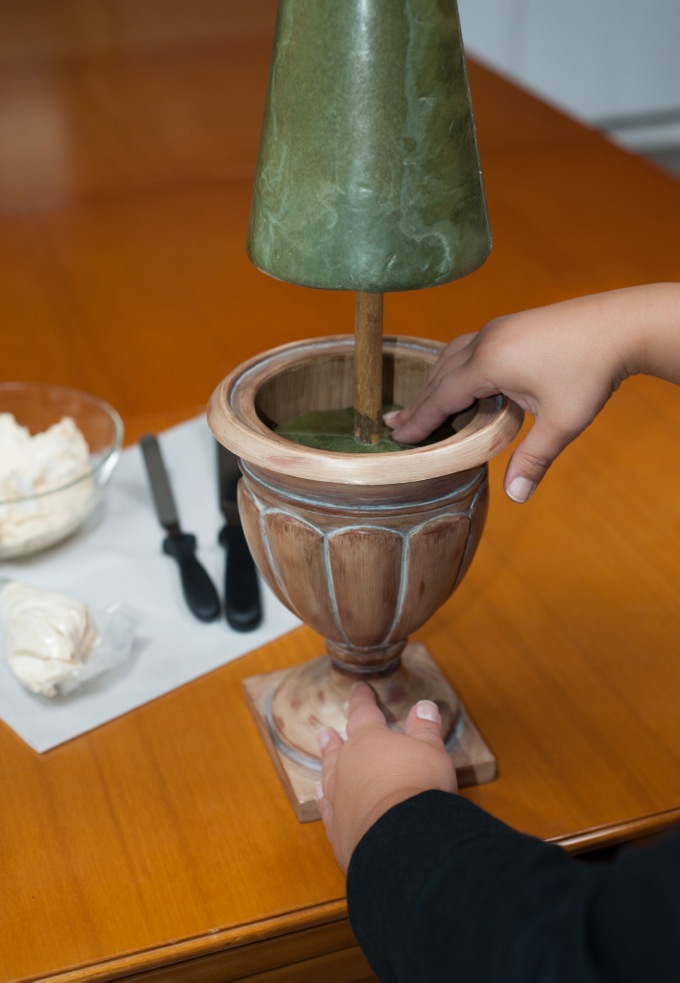 STEP TWO: ICE THE CONE
Using your spatula smear the cone with a generous amount of icing. ↓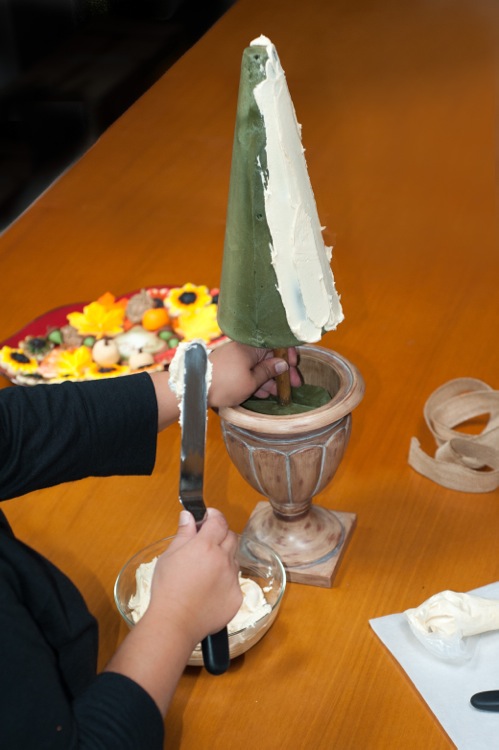 2. Once iced, use up and down strokes creating a smooth, neat finish.↓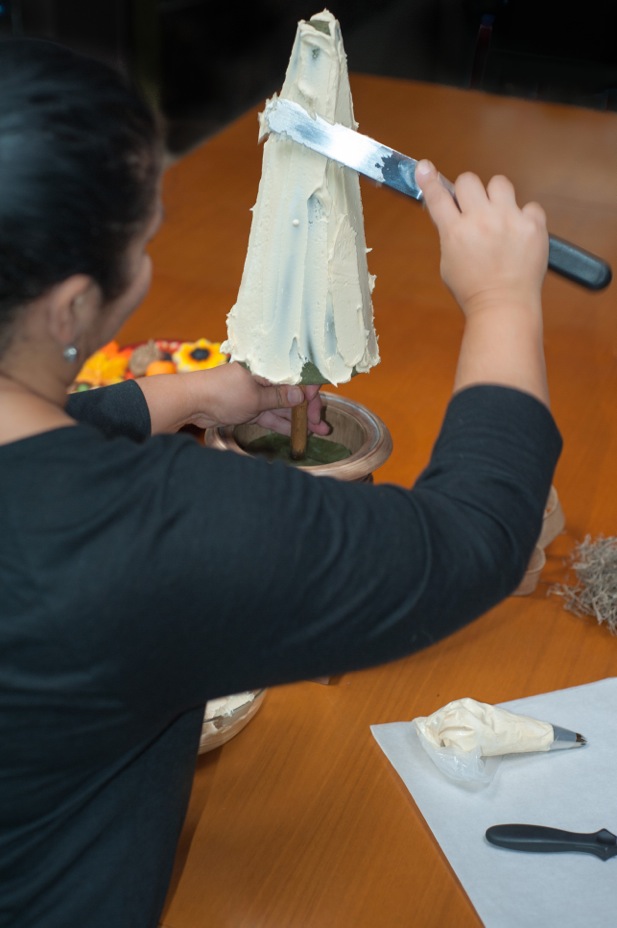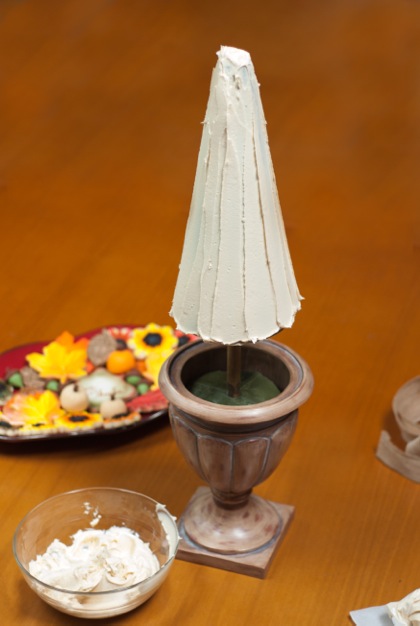 STEP THREE: APPLY COOKIES
Start with the larger 4" cookies. Adhere icing on the back of the cookie. ↓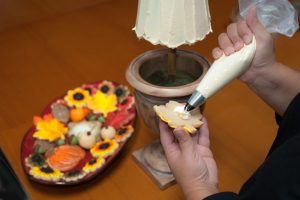 2. Gently place cookie on the cone towards the base. DO NOT PRESS HARD- cookies will break.↓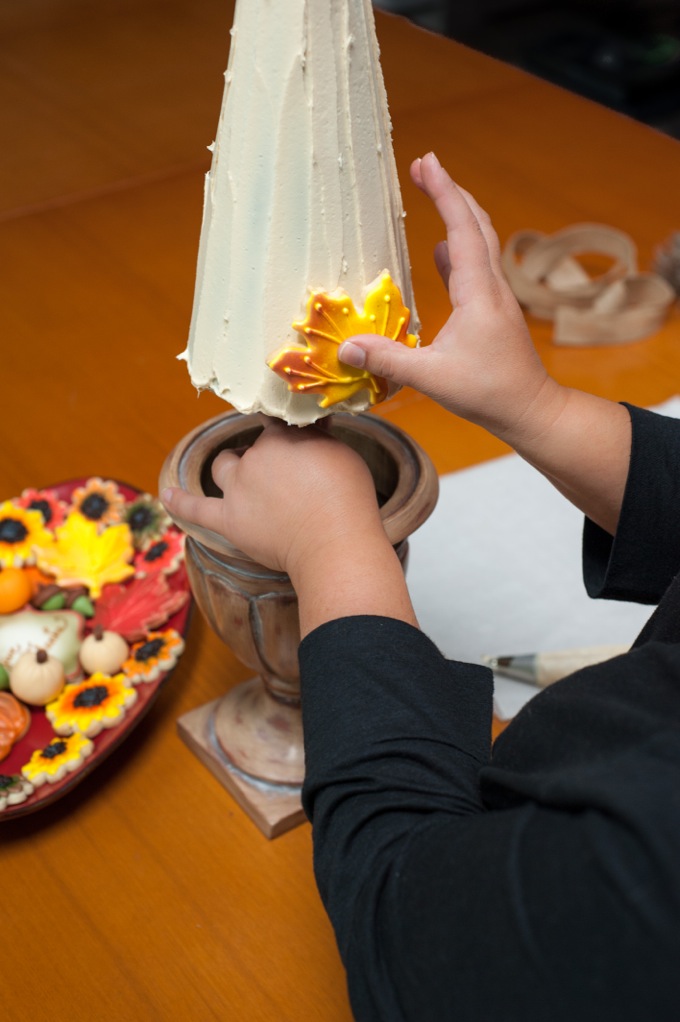 3. Continue placing the 3" and 2" cookies, while rotating your tree.↓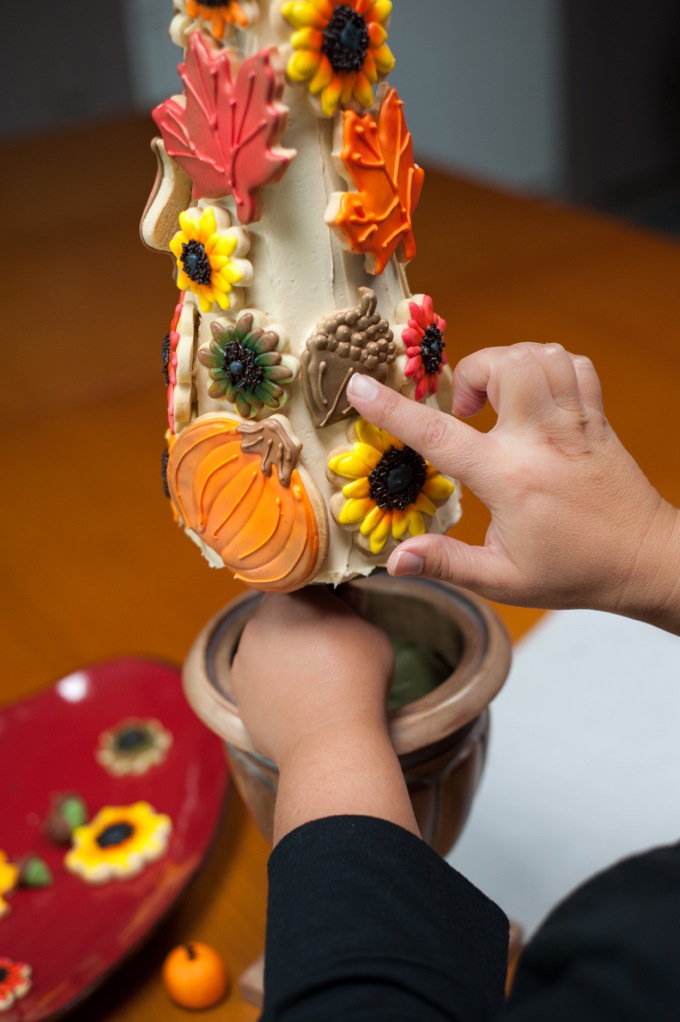 Your cookies can touch.  You do not need to cover every area of the cone with cookies.  Leave room for additional icing and your fondant pieces.
STEP FOUR: APPLY MORE ICING & ADD FONDANT ACCENTS
Once all the cookies are in place, use your piping bag with the 1M Star Tip and pipe rosettes to fill in the gaps all around your tree, including the top.↓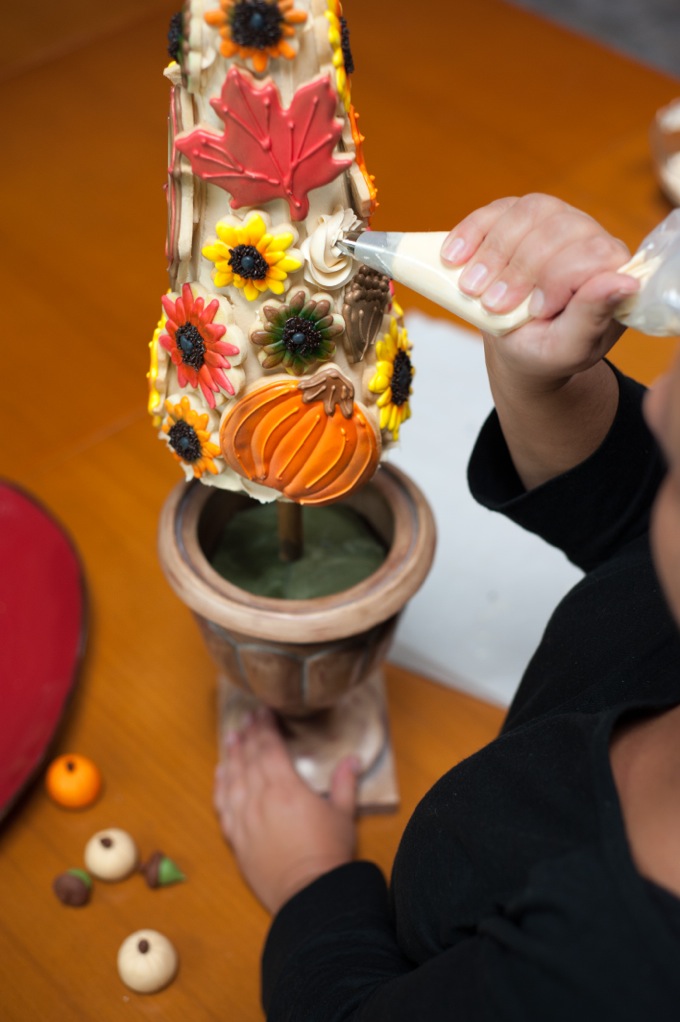 2. Next, get your fondant pumpkins and acorns and place them in the center of your icing rosettes.  Don't forget to place a pumpkin on top!↓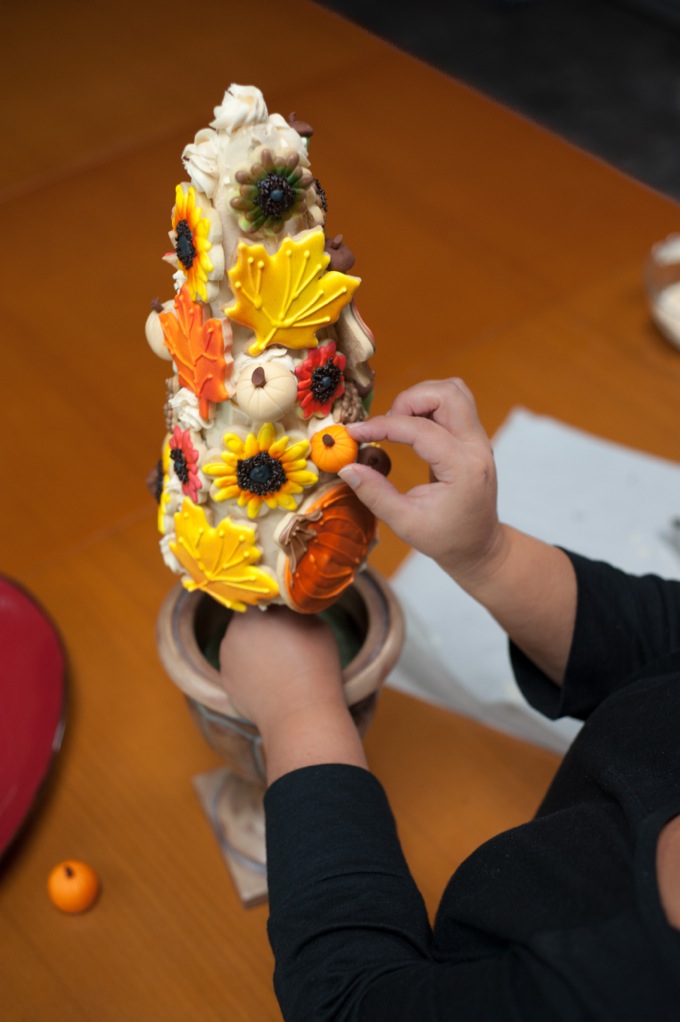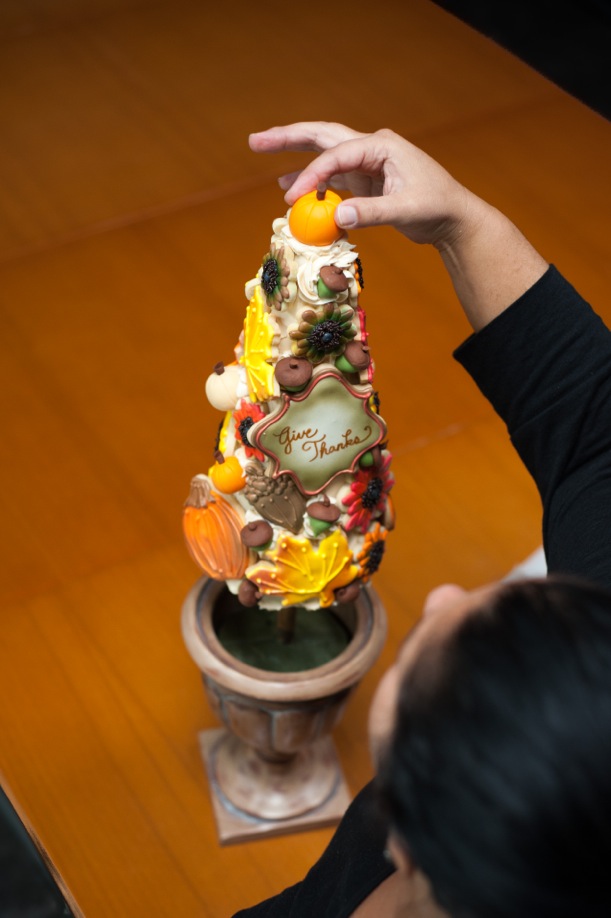 STEP FIVE: FINISHING TOUCHES
Sprinkle entire tree with red disco dust to make it sparkle.↓
2. Next tuck the floral moss in the urn at the base of the tree. Be careful not to get moss on any icing.↓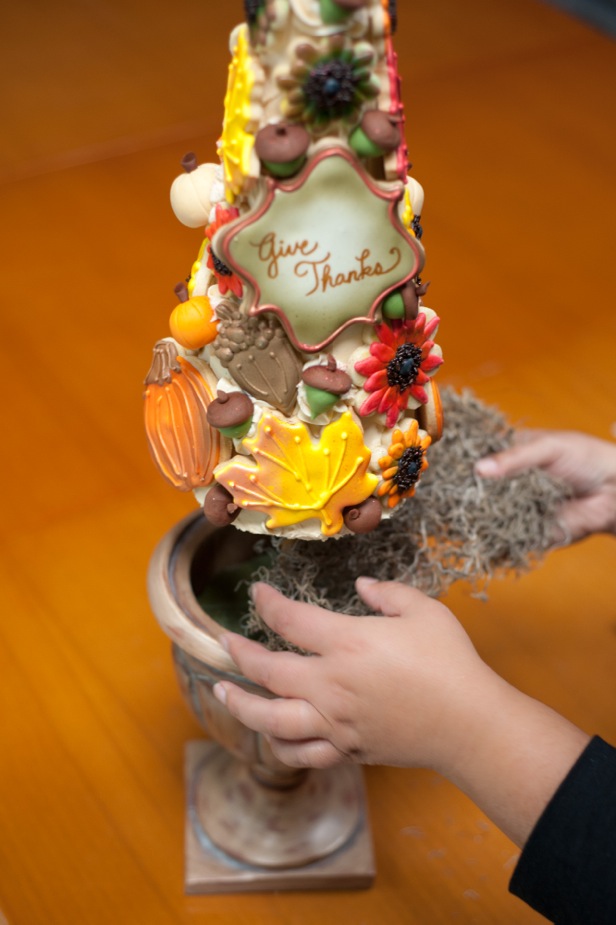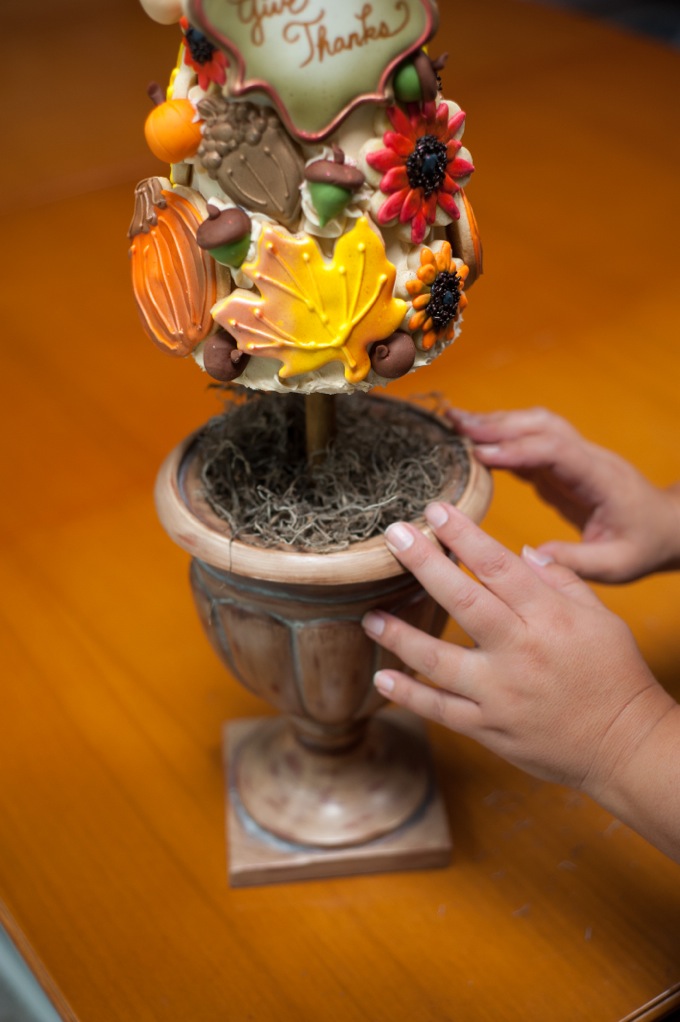 3. Place any leftover pumpkins, acorns or cookies at the base of the tree to create a finished look.↓
4. (Optional) Place bow made with your wired ribbon.↓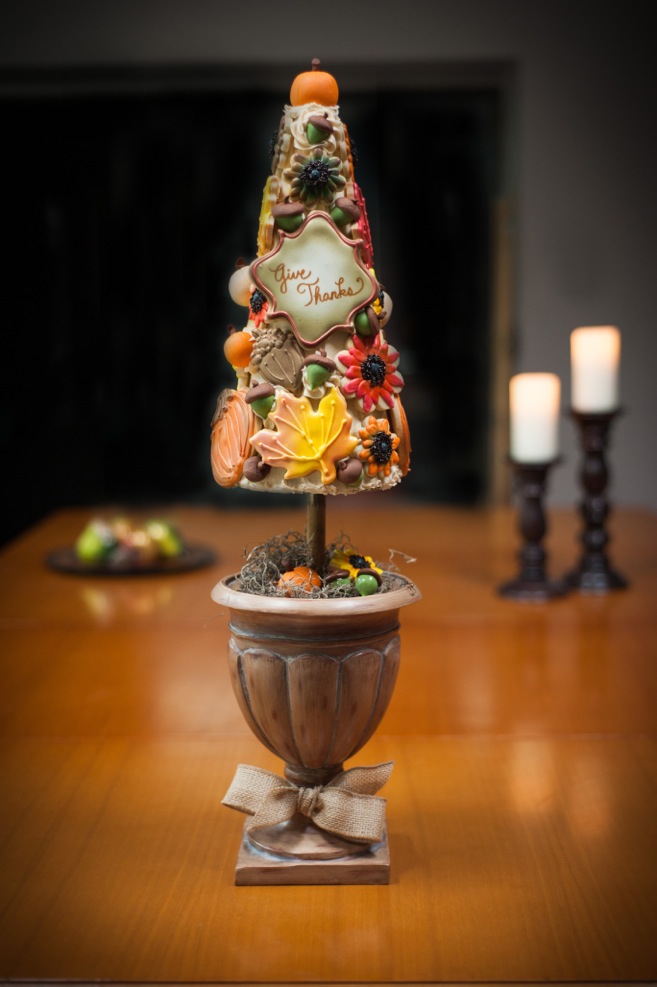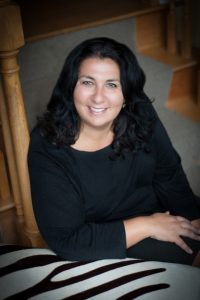 Author Bio:
I am an artist, cake designer, wife and mother of three beautiful children ages 9-13.
I love creating custom cakes and cookies into works of art.  I merged my passions for art and baking, and as a result, SugarMommas Custom Cakes was born!
A big thank you shout out for helping us learn how to make cake!
Photo credit Karen Moriarty Portrait Artist.
For more fall cake ideas visit our fall cake recipes.
[content-egg-block template=offers_list]