How much do I love macarons? I'm talking about the French macaron variety and not the coconut macaroon variety – though I do love both, macarons just speak to me. I've been fortunate enough to do a fair bit of travelling, here, there, everywhere. From "home" in the San Francisco Bay Area to Wokingham, Berkshire (UK), to various parts of Europe, the Middle East, Africa, Asia… How lucky is that!? But seriously, no matter where in the world I am, if there's a macaron to be found, I'll find it!
So I was recently in The Côte d'Azur – here I am in St. Tropez with my trusty travel companion: me and my little camera…contact us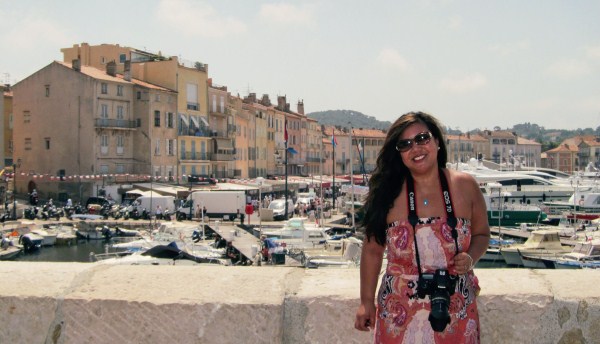 I have visited the various Parisian Patisseries and sampled some of the finest macarons there, but who knew I'd find macarons on the beach!? Yes, La Tarte Tropézienne offers freshly-baked delights from various locations along the French Riviera, but I happened across their open-air, beach-front location in Les Issambres. Their macarons were lovely, light, and subtly flavoured, overall delicious, but not a WOW experience.


Of course I had to visit the famous Ladurée shop in St. Tropez. Beautifully displayed and delicious as ever, but I dunno, maybe I've eaten too many Ladurée macarons through the years, 'cause as much as I love looking at their amazing showmanship, still no WOW.
So, I travelled down to Cannes a few days later, and found Le Café Lenôtre Cannes and found myself ogling their awe-inspiring macaron tower. Lenôtre also offers a wonderful assortment of other desserts, and I almost wish I had tried one of their "religieuse" (pate chou pastry) offerings, as the mac I tried did not quite hit the spot.


A short stroll down the Rue Antibes led me to the UH-MAZ-ING Jean-Luc Pelé. I spied a few of their creations as they were opening in the morning, and knew I had to return to have a proper look around (stalker-style)!
I was so taken by their gorgeous assortment of macarons and desserts that I found myself going back TWICE! I finally bought the two flavours that were recommended by the wonderful staff.
Seriously, who'd'a'thunk that foie-gras and figue would be such a wonderful macaron flavour? I mean seriously – it may be controversial, but it was definitely a WOW macaron moment. Their "caramel beurre salé" was equally stunning; a salty sweet flavour explosion!


A few years ago, I thought I had found the best macaron in the world in Geneva (at the President Roosevelt Hotel). Then I thought the best macarons could be found in Hong Kong. Now I know, as I had suspected when I first tried a macaron in Paris all those years ago, that the French make the best French macarons. But here's to more macaron-stalking!!
I was actually so inspired by my macaron adventures along the French Riviera, that I had to make a batch when I got back home… with my own homemade caramel beurre sale.