The Year of Royal Icing
Evolution of Royal Icing Day
Early one morning, in February 2013, David 'Cakes' MacCarfrae received a telephone call from Jens Oprzondek, inviting him to attend a cake show in Germany to teach his royal icing techniques class. The invitation prompted an unlikely conversation that grew into a brilliant idea.
READ MORE ….
Buy this issue here:
Founding Members
Jens Oprzondek (Germany)
Jens Opzrondek, a German cake artist, is a leader and pioneer of the Sugarcraft industry in Germany.  In addition, Opzrondek is the lead instructor at Cake Company Cake Akademie located near Cologne, Germany, as well as the founder of the Royal Icing Day.
Oprzondek has trained with other bakers and confectionary artists for more than 19 years, gaining his extensive experience at home and abroad. He has attended many courses over the years, including the Royal Icing course at Eddie Spence MBE and an airbrush course at Roger Hassler.
In addition, Oprzondek is involved in a Sugarcraft group whose focus is to establish the art of sugar in Germany and implement standards for competitions in Germany. Members of this group must first receive training by British judges.
To learn more about Jens Oprzondek, please visit: https://www.cake-company.de/
Watch a TV feature on German TV celebrating Jens vision (in German):
http://www.hannover.sat1regional.de/aktuell/article/royal-icing-day-braunschweiger-hobbybaecker-fordert-einfuehrung-eines-neuen-gedenktages-16645.html
Jens is the co-founder of International Friends of Royal Icing Global Association … http://davidcakesmasterclasses.co.uk/international-friends-of-royal-icing-celebrating-175-years-of-royal-icing/
David 'Cakes' MacCarfrae (UK)

David MacCarfrae is an English Cake Artist, International Teacher, co-Director of David Cakes International School of Cake Decorating Art & Design, and co-founder of International Friends of Royal Icing Global Association.
With over 30 years of experience, MacCarfrae travels the world sharing his knowledge, attending cake shows and seminars, and teaching courses and workshops. During his 30 year business journey MacCarfrae has been featured in numerous publications, including the HELLO Magazine Royal Wedding Souvenir issue and recently in the Spring 2015 Edible Artists Network Magazine issue.
In 2012, MacCarfrae began teaching cake decorating classes while sharing with students all his knowledge and experience of running a business for 30 years. In 2013, MacCarfrae decided to close the David Cakes retail shop and focus on his teaching.
As well as teaching in his home town of Liverpool,  England, MacCarfrae attends cake decorating events around the UK, and also in Spain, Italy, Germany, Switzerland, France, Belgium, Netherlands, Estonia, Ireland, Norway, Portugal, USA, Hong Kong and Asia.
David still offers bespoke wedding cake designer service for society clientelle looking for an exclusive tailored wedding cake.
To learn more about David MacCarfrae, please visit: http://www.davidcakes.co.uk/
Edward Windsor (UK)
Edward Windsor is an English Cake Artist, International Teacher, and the co-founder of David Cakes International School of Cake Decorating Art & Design. Windsor, originally a butcher by trade, began his career in the cake industry as a van driver at David Cakes. The experience was enough to light his passion for the cake world.
Windsor, driven by his passion, began to unleash his creativity through the world of sugar. Windsor's free-spirited and creative nature helped him create unique and inspiring sugar pieces, which he experimented with after hours at the shop. His love for Victorian art form influences his work, and can be seen in many of the beautiful pieces he has created.
Windsor continued to develop and improve his skill over the years, and he now travels around the world teaching and creating. He has become a big part of the David Cakes training team travelling around the world.
To learn more about Edward Windsor, please visit: http://www.davidcakes.co.uk/
Karen Davies (UK)

Karen Davies is a highly respected English cake designer, cake artist, and the director of Karen Davies Sugarcraft Ltd.  In addition, Karen Davies is an author and qualified teacher who has built a world-wide reputation for her distinctive style and leads the way in innovative designs and techniques in the sugarcraft industry.
Both Karen and her daughter Alice teach cake decorating courses in the UK and International on a wide range of Sugarcraft skills. Courses include figure modelling, flowers, and Royal Icing techniques.
To learn more about Karen Davies, please visit: http://www.karendaviescakes.co.uk/
Alice Davies (UK)
Alice Davies holds a background in fine arts and is an English Cake Artist, International Teacher, and holds the co-director role of Karen Davies Sugarcraft Ltd (owned by Karen Davies).
Alice Davies began cake decorating in May 2013 when she started working with Karen Davies Sugarcraft  Ltd,  after studying Art as well as Make-up and Prosthetics.
Alice Davies won a Gold medal in her first competition at Cake International in November 2013
Alice has had her cakes featured in Cake Craft & Decoration Magazine three times in 2014.. Her intricate and realistic figure modeling skills are what make her work stand out.
In the near future , Alice plans to launched her own company offering bespoke creative art and continuing to design new product ranges for Karen Davies Sugarcraft Ltd.
To learn more about Alice Davies, please visit: https://alicedaviescakes.wordpress.com/
To see more of her work and stay updated about upcoming classes please see her Facebook page http://www.facebook.com/alicedaviescakes
Kathleen Lange (USA)

Kathleen Lange is a well-known sugar artist, teacher, and owner of Confectionary Chalet. Lange's love of baking and cake decorating started when she was very young. At the age of 4, her parents bought her an "Easy Bake Oven" and her love or baking grew.  At the young age of 16, Lange sold her first wedding cake.
Throughout Lange's career she has taught and attended numerous confectionary classes and demonstrations. Lange has studied extensively with world renowned Hall-of-Fame Decorator Betty Newman-May, and has completed the 150-hour "Lambeth Method" course. Lange has also studied South African & Australian cake decorating methods, cake sculpturing, air brushing, candy making, gum paste sugar flowers, cocoa painting, gingerbread construction, pastries, catering, floral design, calligraphy, and Folk Art painting.
To learn more about Kathleen Lange, please visit: http://www.confectionarychalet.com/
Jacinta Yu (Hong Kong)
Jacinta grew up fascinated by art, fashion, cakes and baking. She was inspired by her Mother's love of bringing people together, and enjoyed helping create birthday cakes.
As a young adult, she graduated from the Fashion Institute of Technology in New York, and began her career working for a couple of fashion houses. During this time, she was inspired by the city's bakeries, and though she loved fashion, she decided to explore her creative talents in edible art forms.
A visit to an international fair led to her taking a Wilton Master Course in 2002. In the ensuing years, she was mentored by some very accomplished cake artists, and developed a passion for creating conceptually sculpted 3D cakes.
In 2004, Jacinta opened her cakes and celebrations store, Complete Deelite, in Hong Kong. It continues to be the place where her dreams become reality – where she challenges herself artistically, while thrilling clients with her work and mentoring others in this exciting industry.
Kristina Rado (Italy)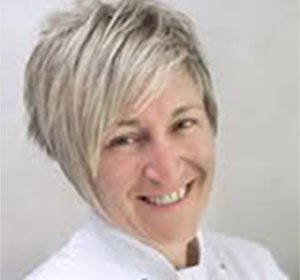 Kristina Rado is a skilled cake designer, consultant, and teacher located in Italy. Rado's expertise is in the art of sugar flowers, realistic modelling, Royal Icing, and edible painting.
Rado lives and works in Rome, and for the past 5 years she has regularly traveled to the UK to attend cake decorating courses led by industry leading experts. Recently, Rado has attended an advanced master class led by Eddie Spence MBE. She has also studied with numerous master sugarcrafters including Christine Flinn, Vivian Lee, and Robert Haynes.
Rado currently hosts specialty classes from her studio located in Rome as well as travels internationally to teach. Rado will be traveling to Hungary, England, Switzerland, Spain, Indonesia, Peru, Hong Kong, and Japan this year to teach her specialist classes.
To learn more about Kristina Rado, please visit: http://www.krikri-corsicakedesign.it/
Laura Saporiti (Italy)
LauraSaporitiisan Italiancake designerwho discovered her passion for cake decorating after spending a lifetimeasan art and history researcher. Saporiti graduated with a degree in cultural heritage and decided to embark on a doctorate in art history, specializing in medieval manuscripts.
Her passion for art history began to take a dip, and a new opportunity presented itself. Saporiti was approached and asked to make a cake for a child's birthday.  With little knowledge in the cake industry, Saporiti decided to turn the experience into a learning one, and soon returned to studying. She immediately found herself adapting the skills needed for cake decorating as many of the techniques closely resembled the expertise she had in art, such as painting, modeling, and sculpting.
In 2012,  Saporiti took the plunge and participated in a cake decorating competition just for fun. She made it to the semifinals. From that moment on, Saporiti did not stop competing, and in 2013 she won first prize in the Cake Design Italian Festival.
With 15 years' experience in the art industry, Saporiti managed to take advantage of her cultural background and turn it into her biggest strength. Saporiti's now gives lectures and participates in events regularly.
To learn more about Laura Saporiti, please visit: https://www.facebook.com/SLSugarland
Come celebrate with us at the The America's Cake & Sugarcraft Fair, September 18 – 20, 2015, Orlando, Florida, USA! EAN and The Sugar Art in association with Kelmy and Complete Deelite will be hosting David Cakes and several other International artists at our booth at The America's Cake & Sugarcraft Fair! Featuring free-hand cake decorating techniques, demos, tips, raffles, and a whole lot more!
Be sure to join us!
To buy ticket visit www.cakefair.com.
For more information please visit The Sugar Art www.thesugarart.com, Complete Deelite (www.completedeelite.com), Kelmy (www.kelmy.com/en), David Cakes (www.davidcakesmasterclasses.co.uk) or Edible Artists Network (www.edibleartistsnetwork.com)