The Carnival Is Coming To Town!
By Mark Desgroseilliers, Montreal Canada
Can you think back to your childhood?  Do you remember getting excited knowing the Carnival was coming to town?  It's a great memory to have.  Now, as a cake enthusiast, wouldn't you agree that you feel the same excitement for cake classes?  I can honestly say I do!  As I am writing this, I realize I have six times the reason to be excited, because this November, Cake Carnival is making its way to Icing Inspirations in Kitchener, Ontario Canada.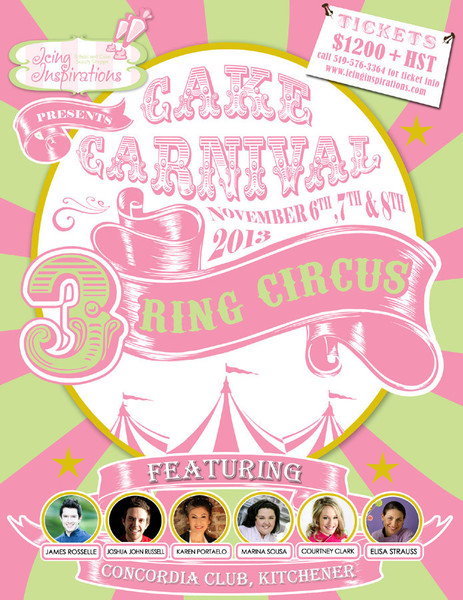 What is Cake Carnival, you ask?  Cake Carnival is an event unlike any other!  It is sure to be more fun than any of the cake shows combined!  It is 3 days of cake bliss taught by not one, not two, but SIX amazingly talented celebrity instructors!  That's right – the 6 instructors will be paired off to teach 3 carnival themed projects over the course of the 3 days, beginning November 6th.
Project number 1 is being taught by James Rosselle and Courtney Clark.  Check out the elephant and that Ice cream cone!
Project number 2 belongs to Karen Portaleo and Joshua John Russell, and is a beautiful clown head.  If you have seen Karen's work, you know she is a master when it comes to sculpting realistic figures.
The final project is Marina Sousa and Elissa Strauss's piece inspired by carnival food.  And how cute is that mouse on top?
Now I know you're curious about how this is going to work.  Each pair of instructors will teach a group of students each day, so each project takes a day to complete.   By looking at the sketches, you can see that we'll be learning so many different techniques and working with a variety of different mediums!
I have been helping Chrissie and Justin from Icing Inspirations plan this event (and it is definitely an event!) since last spring.  We've been having a blast working on this, likely because we share a passion for all things cake.  I can speak from personal experience when I say that taking any class hosted by Icing Inspirations is an experience unto itself!  You leave each class feeling like you have known classmates and the staff forever, and so many lifelong friendships are forged at their classes.  And best of all, Chrissie and Justin have a way of making you feel like you are family.  I know there are still some seats left in this class (not many, but some).  Given the fact that there are 6 talented instructors, the class cost of $1200 plus tax is a real bargain considering people pay about that much to learn from just one of these instructors!  Unfortunately, once the class fills to capacity, a second class will not be added.  If you would like to register for the class, visit http://icinginspirations.myshopify.com/products/cake-carnival-2013 . Icing Inspirations offers a payment plan, and only a deposit of $200 is required to reserve a spot.
And seeing as this is an event, Icing Inspirations is looking for companies interested in becoming event sponsors for the exclusive swag bags being given to all students.  If you would like to find out more about sponsorship and join our growing list of sponsors, please contact Mark via e-mail at morselsbymark@yahoo.com. This is a great way to get exposure for your brand into the hands of many cake artists from around the world!
I am eagerly anticipating November, and cannot wait to see old sugar friends and make new ones too!  I really hope you're one of those!  Until then, Happy Caking!