Funfetti Cake Cookies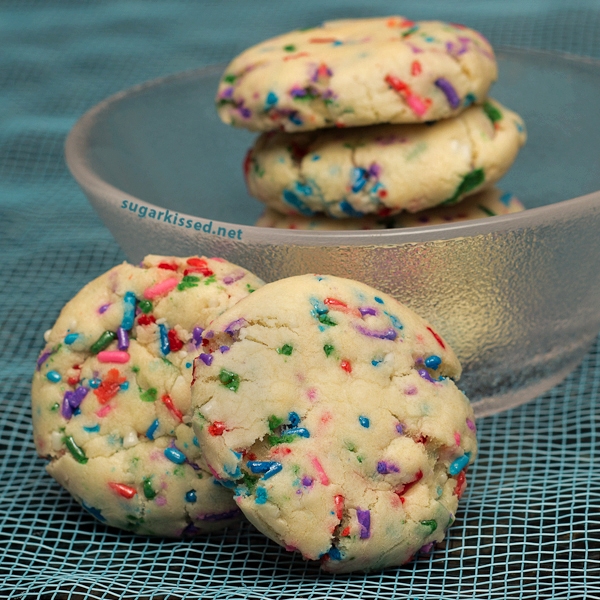 These addictively delicious funfetti cake cookies just might be the easiest cookies you'll ever make! For step-by-step directions visit http://sugarkissed.net/funfetti-cake-cookies/
Funfetti Cake Cookies
Ingredients 1 Box of Classic White Cake Mix 1 Teaspoon Baking Powder 2 Large Eggs 1/3 Cup Vegetable Oil 1/4 Teaspoon Vanilla Extract 1/4 Teaspoon LorAnn's Butter Sweet Dough Bakery Emulsion 1-1/4 Cup Sprinkles
Directions Mix the cake mix and baking powder in a large bowl. In another bowl, combine the eggs, vegetable oil, vanilla extract, and buttery sweet dough emulsion. (You can replace the buttery sweet dough flavoring with another 1/4 teaspoon of vanilla extract.) Add the wet mixture to the dry mixture and continue stirring until they are well combined, forming the cookie dough. Mix in about the sprinkles without over mixing. Roll the dough into balls that are about an inch wide. Set the cookie dough balls on a parchment lined baking sheet, giving them room to spread. Bake on 350 for 9 to 10 minutes, just shy of browning. Let the baked cookies sit on the baking sheet for a few minutes before transferring them to a rack to cool.
For more creative sweets made simple, visit sugarkissed.net or stay connected on Facebook, Twitter, or Pinterest.
Originally posted 2013-03-05 03:45:48.