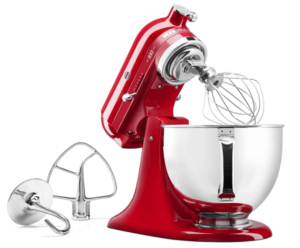 The KitchenAid stand mixers are an iconic appliance that can be found in a number of kitchens all over the world. In its most basic form, a KitchenAid mixer is an appliance that serves a simple purpose: to mix whatever you place in the built-in bowl. However, because of the powerful motor in the top of the mixer, it can also achieve a number of other tasks with the help of other attachments.
What size KitchenAid mixers are there?
There are several different sized KitchenAid mixers available depending on the appliance that you're using it for. For example, if you were hoping to use your mixer to occasionally make a sponge cake for a family gathering, then you may be best suited by the smallest size – three-point-three liters. This is plenty of sizes to make a small batch of cookies, for example, but not a huge batch of brioche.
If you've got more professional goals in mind then you'd be best suited by the biggest mixers on offer, all of which have a capacity of six-point-nine liters. Within this size range, there are several mixers available, from the Artisan to the Heavy-Duty, to the Professional. The last in the range would be suitable for a professional kitchen or bakery, in which several large batches of dough are being made every day.
There are two other sizes available, too – four-point-three and four-point-eight liters. These are mid-range sizes and may be suitable for a home baker who's looking to up their game and make several cakes and loaves of bread in a week. 
What are the different attachments for the KitchenAid Mixer?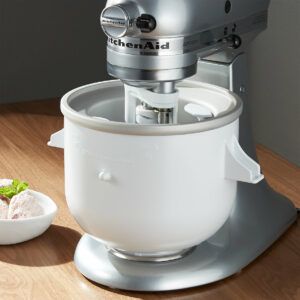 There are a huge number of different stand mixer attachments available, but there are three which particularly stand out as interesting: the ice cream maker, the grain mill, and the precise heat mixing bowl.
The ice cream maker is essentially a bowl which is outfitted with special capabilities. It fits onto the bottom of your stand mixer, where the mixing bowl would ordinarily. It requires pre-freezing and then can be attached to the mixer. Then, add in your ingredients, switch on the mixer, and you can have ice cream in as little as twenty minutes! This bowl in particular makes up to one-point-nine liters, so it's worth considering ice cream makers with large capacities if you're hoping to regularly make larger batches of ice cream.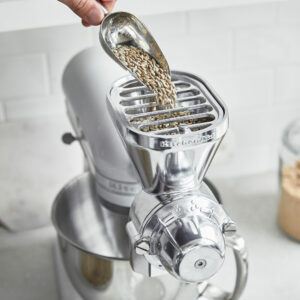 The grain mill may be a worthwhile attachment if you're regularly hoping to make artisanal bread and pizza. Some recipes of that type call for freshly-milled flour, so this attachment can be worthwhile. The attachment has twelve grind levels, ranging from a very coarse 'cracked' texture to a fine grind. This ensures that you'll be able to get the consistency you want for your recipe. The grinder can easily grind any low-moisture grain. Great examples are wheat, corn, oats, rye, and rice.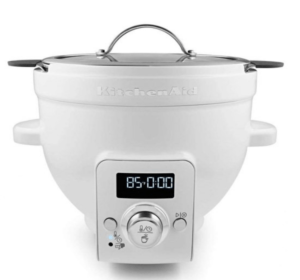 The precise heat mixing bowl is a particularly fascinating piece of equipment. It's similar to the ice cream maker attachment in that it attaches where the mixing bowl normally sits. You can then control the internal temperature to within one-degree Celsius, while continually stirring. This is ideal for making things that need constant attention, such as risotto or chocolate. Interestingly, this attachment can also be used as a standalone slow cooker, and boasts a cooking time of up to ten hours. This is definitely the most versatile attachment we've spoken about in this article! 
What are the best KitchenAid mixer attachments?
There are a number of exceptionally popular KitchenAid attachments, but the most popular ones are an interesting bunch.
The most popular attachment for the KitchenAid mixer is the spiralizer. This beloved attachment can make curly fries in moments, as well as generating noodles from vegetables that you have to hand. Thanks to their ability to make healthy alternatives to traditional starches like pasta or rice, spiralizers are incredibly popular, and it doesn't look like they'll be going away any time soon.
The second most popular attachment is the food processor. The reviews are absolutely stellar and are sure to convince you even if you do think you need one right now. A food processor can make it incredibly easy to make a huge number of things, most notably nut butter. They can also make the prep work for salads and soups incredibly easy, as they're able to chop a number of veggies in no time at all.
The third most popular attachment is the grinder. In recent years, gourmet remakes of classic dishes have seen a resurgence, so you can be sure that people are buying high-quality beef, only to grind it at home and make their own gourmet meatballs, burgers, and more. Reportedly, the attachment makes quick work of everything from meats and cheese to firm fruits and vegetables, which truly showcases how versatile it can be. 
Do all KitchenAid attachments fit all KitchenAid Mixers?
By and large, yes, they do!
All KitchenAid mixers are equipped with a universal power hub, which ensures that all attachments will fit all stand mixers, regardless of age. This is a fantastic feature of KitchenAid mixers, as it means that you can rescue a stand mixer from a thrift store or your parents' house, only to find that it still works perfectly with brand new attachments! This longevity is an impressive part of KitchenAid's brand and is definitely worth bearing in mind when considering other brands as an alternative.
There are only two attachments that don't fit all mixers. There is the ice cream maker, and the precise heat mixing bowl. These attachments will fit the majority of the KitchenAid Mixers out there, but not the Artisan Mini. The reason for this is that those bowls are too large for the mini base. All other attachments – which connect to the power hub – will fit perfectly, however. 
KitchenAid has been making impressive equipment for home cooks and professional kitchens alike for many years now, and they show no signs of stopping any time soon. If the huge number of attachments on the market has convinced you, make sure to check out KitchenAid Mixers today!
Some of the links below in this article are affiliate links, which means that if you choose to make a purchase, I will earn a commission. This commission comes at no additional cost to you.
[content-egg-block template=offers_list]