Candy Making – The Art of Amezaiku
Amezaiku Candy Making – Amezaiku is the fascinating art of rapidly manipulating multi-colored taffy to create sculpted animals and characters. This ancient Japanese candy art tradition requires great skill, for the 200 degree taffy cools quickly and there is little time to work. Before Miyuki, the art was practiced exclusively by men for centuries. Miyuki, also known as Candy 5, is the only female Amezaiku artist in the world. She trained under Master Kimura Takeo in 1994 and not because he was any less chauvinistic than previous artists; she paid him over sixty visits before he finally agreed to pass on his wisdom. Now, that's persistence! Today, Miyuki travels the globe entertaining audiences at weddings, charity events and parties with her unique and fascinating talent. She has made appearances on The Rosie O'Donnell Show, Sweet Dreams on The Food Network, The Travel Channel and The Steve Harvey Show. When she first came to the U.S., she entertained guests at the Japan Pavilion at Walt Disney World's Epcot Center and continued to do so for the next seventeen years. Each mini sugar sculpture begins with a piece of white sugar dough on a stick. Within seconds, her hands quickly shape, cut and color the lifeless lump into a brilliant but tiny work of art. Here are some of her favorites!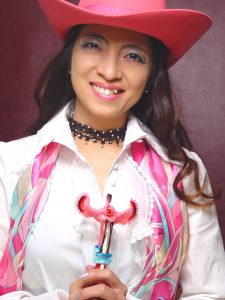 Miyuki aka Candy 5
Visit Miyuki at www.mynameiscandy5.com
Originally posted 2017-08-18 15:40:06.