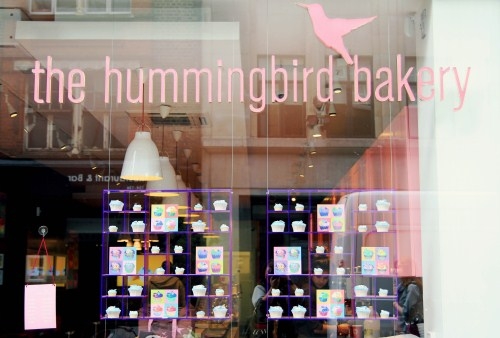 OK, not gonna lie… Everyone had hyped it up so, so much that I was sadly underwhelmed by my first visit to Hummingbird Bakery in London's Soho a few years ago. I must also admit that I've not had much success with a few of their recipes I've tried and tested at home and with friends. (But we bakers are notoriously over-critical of other bakers' creations, no?) So, no one was more surprised than me at what a FAB experience I had as I revisited the Hummingbird on Wardour Street recently.
Maybe it was because the shop was completely empty except me, so I received exceptional customer service from the lovely team there. Perhaps it was because it was early enough in the day so that their display cases were full of their lovely offerings (check out their Chelsea Flower Show cupcakes, their fluffy whoopie pies, and their logo'd brownies!) …
…But on this sunny day, everything in the shop gleamed and glistened, and all of their baked goodies looked superb. And, how gorgeous is this red velvet cake?
There was nothing left to do but to try a few of their most popular cupcake flavours. The sweet young lady serving me really took the time to explain the various flavours, and offered me their flavour of the day: Apple Strudel, along with her favourite: the Black Bottom. Of course I had to try their Chocolate/Chocolate and Red Velvet cupcakes, too.
My verdict: As you can hopefully tell from these pictures, each of the four cupcakes I sampled were moist and fluffy, with a good frosting to cake ratio. The frostings were irritatingly fresh-tasting, without that annoying "extract" aftertaste you often get at chain cupcakeries, and each cupcake was, YES – I'll say it: DARN GOOD! Even their Red Velvet version tasted so much better than the crappy results I've achieved at home after having tried their published recipe three times. Note: Red Velvet is NOT just chocolate cake dyed red.
Am I glad I revisited Hummingbird Bakery? – Yes. Will I be back? – Yes. Will I revisit their recipe book? – Watch this space…