Learn How to Make Cake at The Americas Cake and Sugarcraft Fair
Learn how to make cake!
September 18-20, 2015
Orange County Convention Center, Orlando
The Americas Cake and Sugarcraft Fair at the Orange County Convention Center in Orlando September 18-20, 2015 was a dream come true for this first time ever attendee of a consumer sugarcraft show. Before my eyes was the biggest candy store ever and someone had handed me the key to the front door. Although I spent 35 years working as a designer and writer in the art and craft industry, I am a newbie to the world of edible art and craft. Over the last few years I've been discovering the joys of cake decoration, candy creation, and other sugary treats and attending this show was like adding the finishing touches to a great cake with hundreds of my BBFs right there to take pleasure in my accomplishment!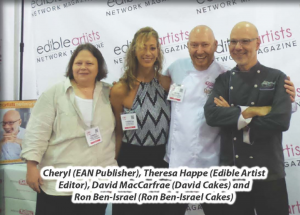 This show was hosted by Satin Ice and sponsors Edible Artists Network Magazine, American Cake Decorating, Cake Masters, Martha Stewart Wedding and Cake Central. One of the best parts of the show was that something interesting was always going on every minute of each day! I enjoyed watching cake artists from around the world create incredibly detailed show pieces during the International Cake Contest. I strolled by eye catching cakes that were entered into Wedding, Special Occasion/Novelty, Floral & Shoe Display cake competitions.
Almost every booth had fascinating demonstrations of techniques and skills from using molds to glittering color to airbrushing.  Plus hearing guest speakers Buddy Valastro, Ron Ben-Israel, Mich Turner, and Roland Mesnier share wisdom freely; giving valuable insight to home bakers and professional artists was a pleasure. And if you had a spare moment there were a variety of classes to advance your skills.
Lessons could be learned and much laughter was heard during each of the star guest's presentations. Buddy Valastro entertained the audiences with behind the scenes stories of how the Cake Boss went from an idea to a TV show.  Ron Ben-Israel shared insights into how to cater to high end clients and included a slideshow of his own business.  Roland Mesnier, former White House pastry chef charmed the crowds with stories from the White House kitchens including past Presidents' favorite desserts. A great way to learn how to make cake.
Zoned In
I wanted to be everywhere at once! I spent time in the Zones, which were special areas that focused on specific things like Wedding, Kids, Sugar Arts, and Chocolate. Each zone had its own schedule with experts on hand to demonstrate and answer your questions. As a matter of fact, in the Chocolate Zone I learned exactly what I'd been doing wrong for the last 6 months in my attempts to temper chocolate. Yes, in a brief 3 minutes I learned more about tempering and successful tempering of chocolate than I did reading 3 books on the topic. Chocolate artist David Ramirez, his staff and interns manned the Chocolate Zone throughout the show answering questions, demonstrating skills. You can see his work on his company's website: www.DavidRamirezChocolates.com
The Wedding Zone showed off the latest in wedding cakes and wedding treats. My favorite was a display of push up treats that gave the visual impression of a huge tiered cake. The main motif in weddings was definitely flowers. White icing was topped with bold pops of color or the very sophisticated creations of white on white. The wedding cakes were either elegantly simple or featured awesome, intricate details; both ways were eye-catching, making me glad I wasn't part of a couple who had to make a choice. The decision would have been impossible.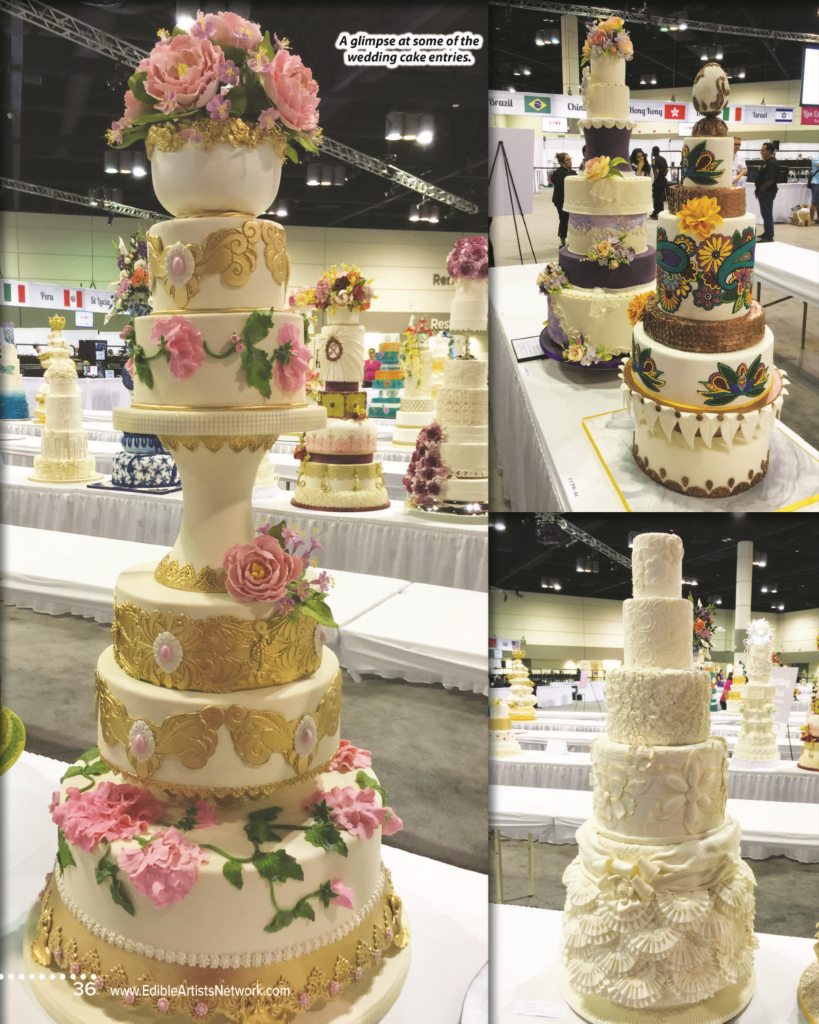 If nothing else, just walking the show floor and taking a peek at each exhibitor's booth was worth the ticket price. I'd never seen so many must-have products in the same space. The variety of supplies and tools made the show a great shopping experience. It was also an opportunity to ask the experts your questions. It was an opportunity to expand your color palette and flavor options. It was an opportunity to see tools used in the hands of experts and give it a try with your own hands.
Global & Live Competition
There were many different cake competitions going on, but center stage was the Global Cake Challenge that took place all day long on the first day. With amazing stations set up for the creativity, it was amazing to watch the cakes being created. Although you could never tell what the judges were thinking (all had excellent poker faces), Judge Roland Mesnier was interviewed throughout the competition and, while not giving anything away, he did give the audience excellent insight into what judges are looking for and wanting to taste during the competition.
I found it interesting that, just after the tasting part of the competition, Mr. Mesnier said, "We taste a lot of extracts today and not all of the extracts were an asset to the cakes. The only extract that rarely fails is vanilla extract and you'd be better off getting your flavor directly from the source. Many people think adding orange juice to the batter will bring fresh flavor, but really the flavor from the zest gives you what you are looking for. Stick to the classic flavors like lemon and you'll have better results." Advice worth considering as the winning team from Ireland took home $10,000. They can help you learn how to make cake!
Live Global Cake Challenge Teams & Judges
Live Global Cake Challenge Emcee: Susan Notter, C.E.P.C, Director of Pastry Arts, Pennsylvania School of Culinary Arts
Team Brazil:
Hellen Colantuono & Amos Colantuono
Team China:
Nancy Lu & Jing Gong
Team Hong Kong:
Andy Li & Fenice Fong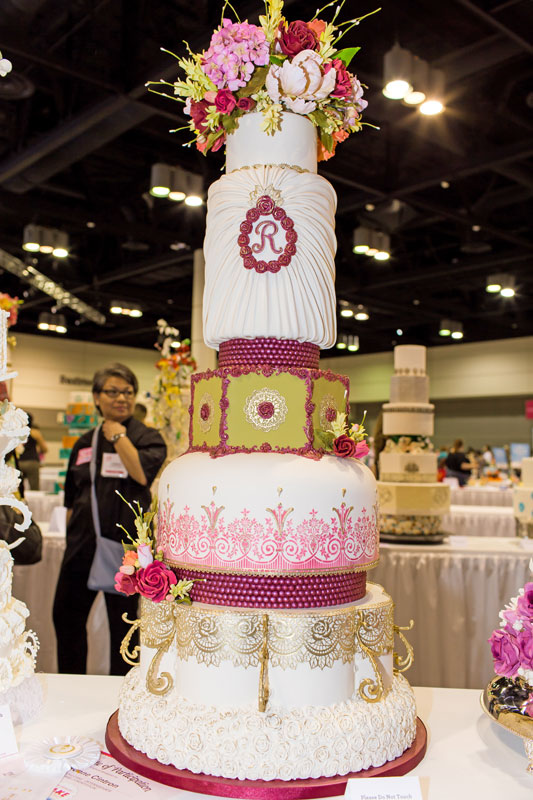 Team Ireland:
Karen Keaney
Team Israel:
Karinn Emanual & Michal Emanual
Team Italy:
Charles Tola & Joseph Settepani
Team Peru:
Karina Febres & Janel Jiminez
Team St. Lucia:
Rosa T. Beck & Anastasia Spencer McGee
Team Trinidad & Tabago:
Justin Marchack & Michelle Sohan
Team USA:
Bryson Perkins & Kim Simons
Judges
Steve Evetts, Chairman of the Judges, Executive Pastry Chef, New York Marriott Marquis
Geroges Berger, MOF, Chocolate Fashion, Coral Gables & Miami
Norman Love, Norman Love Confections
Roland Mesnier, Former Executive Pastry Chef, The White House
Stephane Cheramy, Executive Pastry Chef, Ritz Carlton Orlando
Best in Show, Wedding Cake Competition
Liz Marek
Sweet Fashion
The Sugar Arts Fashion Show and Cocktail Party was not just an event at the show, but a jaw dropping experience. A truly sweet experience in how teamwork and creativity can work hand in hand to make a statement and express emotion plus create fabulous fashion from edible ingredients. When you entered the show floor on the first day, you saw mannequins with white T-shirts and your curiosity was peaked. That evening, some very sophisticated clothing walked down the runway and my brain just couldn't fully accept that these fashions were up to 98% edible. The fashions flowed just like fabric. The accents and accessories looked like gold, silver, and precious stones. How could what looked like leather really be chocolate? How could the bold bright flowers not be silk? The outfits were eye candy!
The next morning, the white T-shirts on the mannequins were replaced by the garments featured the night before at the fashion show. Now, up close, you could see that sugar, chocolate, and even gumballs made up the dresses, skirts, and even a decked out a belly dancer costume, but it all still looked like real garment materials and supplies. Everything was edible from the hats to the shoes. You could have spent hours just taking in all the details of each outfit. The fashion show was organized and sponsored by Cake Central.
Fashion Designers
VanilleCouture: Monica Azuara with Liliana Cuellar and Willie Soto
Marilyn Bawol
Chris Campbell
Rosalind Chan
Joesph Cumm
The Sugar Mob: Vanessa Greeley with Silvina Barboza and Carolina Lara
John Hamstra
Lisa Mansour
Colette Peters
Mily Pimentel
Teri Tarbox
Sidney Galpern
Sharon Spradley
You Never Know Who You'll Meet so Get Ready to Network!
One of the most special memories I have from The Americas Cake and Sugarcraft Fair was sitting down to lunch and talking with other attendees at the show. I got to know so much from demonstrators, cake competitors, bakers who sell their wares online, teachers, and other home bakers. I got to see portfolios and cell phone slide shows of beautiful cakes, cupcakes, candies, and more. I had lunch with one of the competitors in the Novelty Cake competition on the first day. She told me about the excitement and also the nervousness that comes with competing. I bumped into her on the second day and found out she'd won first place in her category. How special is that! So I highly recommend not thinking of lunch as just a time to refuel, but also an opportunity to find out more about your fellow cake and sugar enthusiast.
Also exciting for me was running into the owner of a new cake and candy retailer who was going to open her store in a few weeks locally. I'm not complaining, but there are few local resources for the home baker where I live so discovering that that situation was about to change was exciting and I'm not sure I would have known about the opening of her store in Orlando if I hadn't bumped into her on the show floor. The show floor is an opportunity to network so bring that portfolio, prepare a brief slide show on your cell phone of your body of work, and don't forget to bring your business card. I created and printed out "business cards" with my contact information before the show just for this purpose. It's a quick and easy way to give people you want to stay in contact with a way to stay in touch with you.
I'm still going through all the information I picked up at the show. I'm having a great time using all the supplies I purchased at the show from glimmering and glittering colorants to molds to Kelmy Royal Icing Glasa Real (the easiest way to get your Royal Icing on). I'm checking out all the great websites and videos that the exhibitors shared with me. The show was uplifting and gave me motivation and inspiration to fuel my passion for edible art and fill my brain with ideas and treats I must create. It was great to be in one spot and meet what felt like the entire industry of friendly folks who shared freely. I was a kid in the world's best candy store and I'm dreaming about attending the next The Americas Cake and Sugarcraft Fair!
Maria's Top 5
Ron Ben-Israel's How to Cater to High End Clients (http://www.weddingcakes.com/): I have to confess Ron Ben-Israel is a hero of mine and getting my photo taken with him was a real show highlight! However, his presentation was fabulous! He shared many insights, honesty, and business advice that was valuable not just to the beginner or new business, but wise words for the professional too. He is the real-deal and can help you learn how to make cake.
Scala-Wisell International JCT Alphabet and Numbers Sprinkles (http://www.scala-wisellint.com/, Info@scala-Wisell.com ): I'm just crazy about sprinkles so when I spotted this colorful booth I marched right over. Yet, I wasn't sure if the pros called sprinkles sprinkles so that was my first questions even though I was a little worried they might laugh at such a beginner question. No laughter at all, but the answer: Toppings!
Sugar Veil (http://sugarveil.com/): The beautiful lacy decorations made by this wonderful product line had me hooked. Then when I watched the demo, I thought, "I can do that! I loved that the company had so much information about the "how to" to give me plus lots of great additional info and videos on their website.
Edible Artists Network (edibleartistsnetwork.com): This was not just my first cake and candy show as a home baker, but also my first days on the job for Edible Artists Network. I really lucked out! I had a front row view of some of the best of the best right there in our booth: David MacCafrae, Ed Windsor, Kathleen Lange, Kristina Rado, Karen Davies and Barbara Mancini. I was blown away by how crowded our booth was every second of the show and how the EAN team took care of everyone. Plus the booth was selling Kelmy Royal Icing Glasa Real, which is the best and easiest to use royal is icing I've ever used; even my beginner attempts looked great.
The cakes at Satin Ice booth (www.SatinIce.com): This booth's cake displays could have been a cake show all by itself. The detail was inspiring! Up until this show fondant was a bit of a mystery to me and very intimidating, but spending time in this booth watching the amazing demonstrations and taking the time to really explore the details of the cakes made me buy that fondant and I've enjoyed experimenting with it very much.
Show Cake Gallery: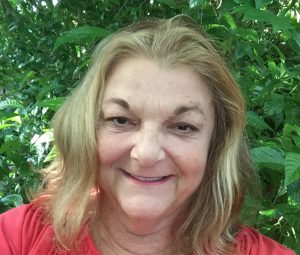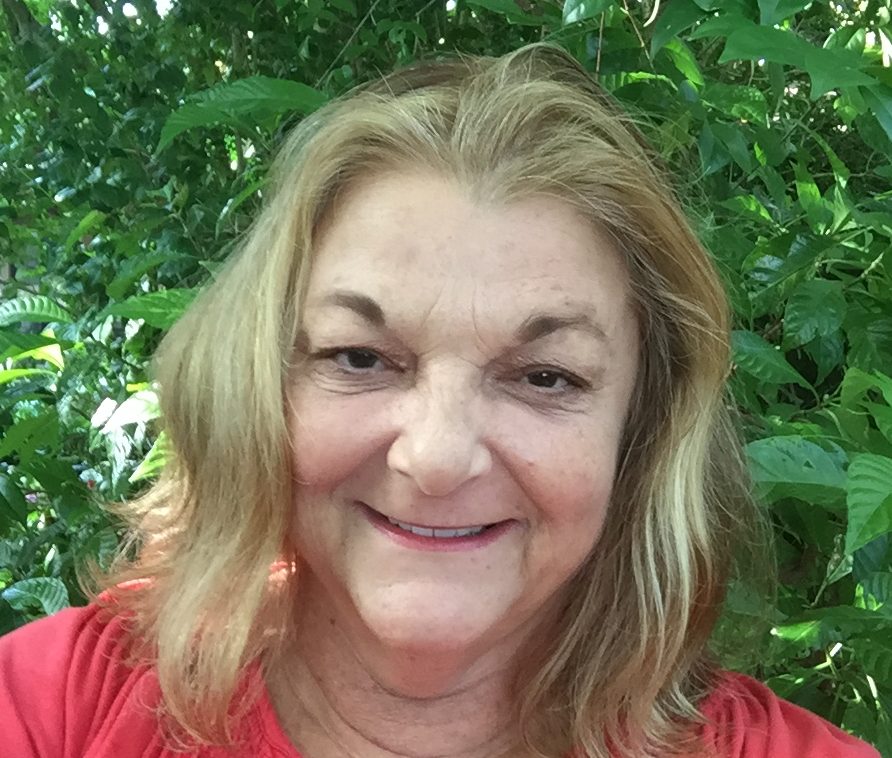 Maria Nerius has been a professional writer and craft designer for over 35 years with a passion for art, craft, and creativity.  A home baker and edible crafter who is obsessed with any and all baking tools. She now has a blog, Fearless & Curious, Maria Nerius in the Kitchen on edibleartistsnetwork.com. You can contact Maria on Facebook: MariaGivenNerius or by e-mail: MNerius@cfl.rr.com
[content-egg module=Amazon template=list]