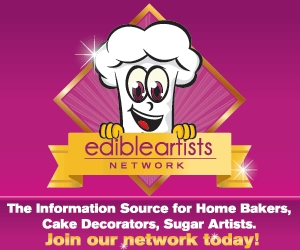 Recipes, fondant, and cake decorating are only some of the topics discussed here at Edible Artists Network! If you love cakes and cake decorating and enjoy interacting with other bakers, our unique community will become your favorite spot on the Internet.
Edible Artists Network was created as a virtual meeting place for bakers, cake decorators, and sugar artists. Whether you own a small baking business, would like to own a baking business, or simply love cake decorating, you will find a wealth of fun and useful information on this forum. Join us to share recipes, fondant tips, baking tricks, and pictures of your latest masterpieces!
Edible Artists Network is THE virtual meeting place for home bakers, cake decorators, and sugar artists. Membership is FREE so please visit the site and click "Register" at the top left of the site. Simply provide us with a few details and gain full access to our network.
Check out our latest products!
Edible Artists Network
P. O. Box 870614
Stone Mountain, GA 30087
www.edibleartistsnetwork.com
www.facebook.com/EdibleArtistsNetwork
www.twitter.com/edibleartistsNW
www.pinterest.com/edibleartists
404/838-8375
To receive more information via email or postal mail please click here:
[iframe width="560″ height="315″ src="http://www.youtube.com/embed/IgFPeB67v3k" frameborder="0″ allowfullscreen]