Christmas is definitely one of the happiest times of the year so I start looking for Christmas cupcake ideas.  I spend time surfing the Internet and reading magazines looking for ideas as I anticipate baking fun and unique desserts during the festive season. There's so much festive cheer around that any design is sure to get a smile, but here are some of our favorites.
Spectacular Sparkling Cupcakes
Here is one of my favorite Christmas cupcake decorating ideas. No matter what the occasion is, there's always room on the table and in people's bellies for a spectacular sparkling cupcake. In our example here, we've really gone all out with our sparkler cupcakes!
This is a great way to get some cheers at the end of a Christmas party, bring out a platter of Christmas cupcakes adorned with sparklers and candy canes. Not only are you ensuring that no one leaves with an empty belly, but you're also sprinkling an extra bit of Christmas cheer on the event.
If you can't find sparklers or you prefer not to use them then sparking candles are a great alternative. I found some at Walmart.
Christmas Tree Cupcakes
If you're looking for Christmas cupcake ideas that are fast and easy and look great on your table then this idea is perfect for you! Making these is easy and doesn't require you to have any advanced skills or technical training.
To make these Christmas tree cupcakes, simply use a fluted piping bag nozzle, pipe icing on top of cookies slowly at first, and then more quickly as you remove the piping bag vertically. This will result in little towers of icing which look just like adorable little Christmas trees.
Add some silver or white dragees and your masterpiece is complete!
Snowman Cupcakes
This cupcake decorating idea is one of my personal favorites since it's just so cute! Using simple cake decorating supplies you can create an awesome looking dessert that tastes great!
In order to make your own little snowman cupcakes, make a batch of plain cupcakes, and whip up a batch of white buttercream icing. Then, using a smooth piping bag nozzle, pipe a large blog of icing into the center of the cake. On top of that blog, make another, slightly smaller blob. Complete the stack with the third ball of icing, and there you have a little, fat, adorable snowman!
To give the snowman a mouth and eyes, you can make up a batch of royal icing with black food coloring. If that sounds unappetizing, perhaps use some particularly dark cocoa powder to make a dark chocolate royal icing. Then, using a skewer or toothpick, place small droplets of the icing onto the face of the snowman in the shape of eyes and a mouth.
If you prefer to make the snowman using fondant here is a great step-by-step tutorial.
While it's possible to purchase the little hats you could also make them yourself using some black fondant. Your best bet would be to use royal icing and sculpt as many small circles and cylinders that you'd need. Stick the two together with a little buttercream, and you've got some little top hats.
Snowflake Cupcakes
These snowflake cupcakes can be made with items you purchase or you can make the decorative snowflakes yourself. It's really up to you.
If you're using store-bought snowflakes, then you can simply add them to the top of the cupcakes after you've added some buttercream icing, and they'll stick to make a delightfully sweet treat.
Making your own is a little more tricky. Your best bet is to use fondant icing and a very sharp knife to cut out some shapes that look like snowflakes, and then allow them to dry a little until they can be easily handled. When you get to that point, you can wedge them into the buttercream icing on your cupcakes easily, and they'll stand, creating a great effect.
Whatever idea you use to make delicious Christmas cupcakes this year, let us know! We're always really interested to see what people do with our ideas, so make sure to share your results with us. Happy holidays!
Christmas Tree Sprinklefetti®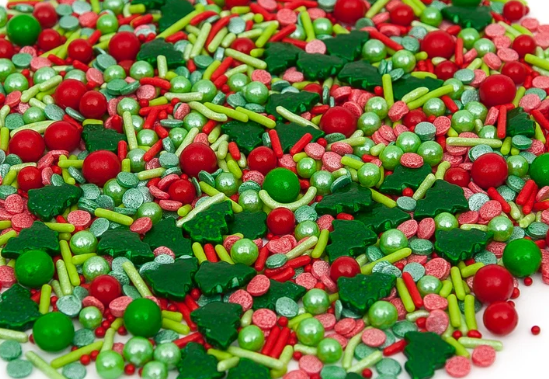 Making dazzling treats for Christmas doesn't have to be hard to overly time-consuming. Above are just a few Christmas cupcake decorating ideas and if you let your imagination run wild you can come up with tons of interesting ideas.  For example, I recently discovered Christmas Tree Sprinklefetti® by ShopSweetsIndeed.com  that is just so and easy to use and will help you be creative even when you're short on time.
Simply put, Sprinklefetti® is a combination of nonpareils, sugar pearls, jimmies, confetti, and sprinkles in various festive shapes and colors. Made in the USA, Gluten Free, Dairy Free, Nut Free, and makes the most festive and colorful designs. 
Make a simple batch of cupcakes and icing and with Sprinklefetti®  you can create tons of unique and festive ideas.
All of our Christmas cupcake ideas need an amazing cupcake to start with. Take a look at this video to learn how to make perfect cupcakes every time!
I hope I've sparked your creativity and I'm looking forward to seeing your Christmas cupcake ideas. Please share them below and if you like this article share it with a friend!!