Top Wedding Cake Alternative Ideas
Weddings have changed so much over the years and more people are looking for wedding cake alternative ideas for their big day.
While a traditional wedding cake will never go out of style, why settle for a white confection when your wedding day should be a one-of-a-kind celebration?
Whether you simply dislike traditional wedding cakes or are enamored with a particular sweet delicacy, your wedding dessert is the ideal occasion to convey your preferences with your guests. Are you ready for some motivation?
For decades, the wedding cake has been a mainstay of celebrations in one form or another. It began as a simple barley bread that the groom broke in half above his bride's head in Roman times, and has since evolved into the expensive, expansive, and convoluted monstrosity that we must consume.
Let's take a look at some of the possibilities accessible to today's bride and groom, whether you've just been engaged and want to do something different or you're just bored of wedding cakes in general:

Macaron Tower
Do you think a macaron wedding cake would clash with your style? Reconsider your position. These bite-sized treats come in a range of shapes and sizes, with a variety of tastes and even handpainted decorations. Brady recommends creating a macaron wedding cake that matches your wedding's aesthetic and color palette. Alternatively, choose fresh flowers to complement the rest of your wedding flowers.

Doughnut Towers – One of My Favorite Wedding Cake Alternative Ideas
Doughnuts are a timeless favorite, but they don't have to be boring. Stack the round sweets in a mini-tower and then adorn with blossoms and tiny flags for a unique variation on a typical tiered wedding cake (that can be used to note different flavors or showcase details of your love story, like your initials or wedding date).

Cake Pops That Pop!
If you're looking for something portable, cake pops are a terrific option. They may also be customized to fit any color scheme, making them the ideal finishing touch for a magnificent dessert table.

Brownies as Wedding Cake Alternative Ideas
Do you think brownies can't be gorgeous and festive? Reconsider your position. A brownie worth his (or her) confectioner's sugar can be made by any baker worth his (or her) salt. Imagine dense brownies laced with caramel and macadamia nuts, dark chocolate squares sprinkled with melting white chips, or skillfully-sculpted brownie bowls filled with vanilla gelato and topped with shredded chocolate; it's not all Betty Crocker with vanilla ice cream. Yum.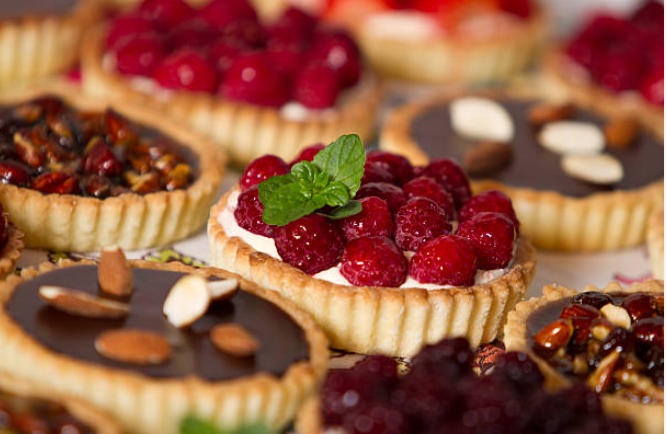 Fresh Tarts – Awesome Wedding Cake Alternative Ideas
A table laden with fresh berry, fruit, nut, or cream pies will satisfy your visitors while also highlighting your personality. To design your display, choose elegant cake stands and platters, write lovely labels informing guests about their options, provide whipped cream, ice cream, or candied almonds as toppings, and send guests home with recipe cards outlining your favorite family pie recipe.

Fondue Me Some Wedding Cake Alternative Ideas
Few people can resist the appeal of dipping something delicious into something even more delicious. This is where fondue's allure rests. Consider how thrilled your guests will be when staff deliver molten chocolate to their tables—and how fantastic you'll feel the next day after eating all that "healthy" fruit! Naturally, when the guest list grows, the logistics become more difficult; how do you maintain chocolate molten for thirty tables?

Kransekake
Kransekake is a traditional Scandinavian dessert made of stacked almond cookie rings with royal icing.
The trademark cake of Scandinavia, Kransekake, or "Wreath" or "Ring Cake," has a prominent place at weddings, birthdays, graduations, and holiday dinner tables. A conventional Kransekake should have at least 18 rings stacked on top of each other and secured with icing, although more celebratory cakes might have many more layers.
This cake is popular among both Danes and Norwegians. During the Christmas season, Kransekake is widely available.
Consider making this dish to honor your heritage, or simply add it to the mix for a less-sweet option.
Wedding Cake Alternative Ideas … The Sky is the Limit!
The ideas are endless so open your mind and get creative. Whatever choice you make will be a perfect fit for your special day!
If you're interested in learning more about the history of wedding cakes read this article. I really enjoyed learning about the origins of wedding cakes.
To learn more about cake decorating check out our cake classes section.
[content-egg-block template=offers_list]