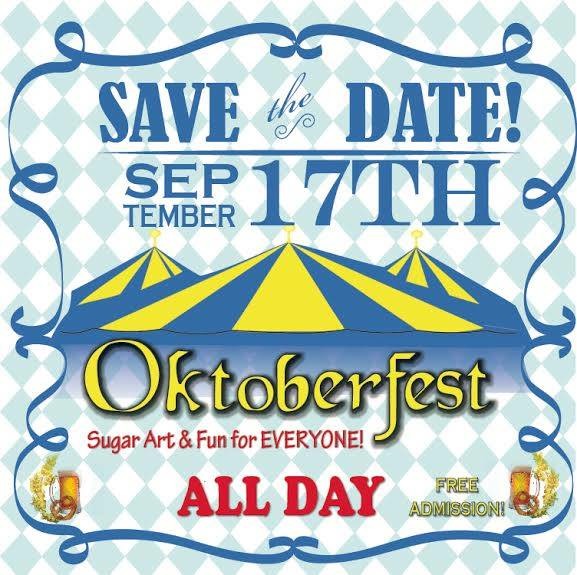 Oktoberfest Collaboration – Welcome to the Wiesn – the World's biggest fair!
Oktoberfest is the largest festival in the world, with an international flavor characteristic of the 21st century. About 6 million visitors from all around the world converge on the Oktoberfest in Germany each year. It is a 16-day folk festival running from mid or late September to the first weekend in October.
Our collaboration is a celebration of this festival and include artists from the USA, Canada, Mexico, United Kingdom, Republic of Ireland, Germany, France, Spain, Switzerland, Australia, Austria, Portugal, Bulgaria, the Netherlands, and Malaysia!
Visit our Facebook page at www.facebook.com/Welcome-to-Oktoberfest-2016-1554865308158953/about/?entry_point=page_nav_about_item
View a short video clip at http://youtu.be/JLDYnqMA_ck
Enjoy!
(to view the full-size version click on the image)
Khamphet Che-Bui
https://www.facebook.com/SweetSideOfCakes/?fref=ts
Heba M Elalfy
https://www.facebook.com/sweetdreamstoyou/?fref=ts
Michele Walters
https://www.facebook.com/Eatcakelovelife/?fref=ts
Richi Barcenas
https://www.facebook.com/richibarcenassugarartist/?fref=ts
Oana Butto
https://www.facebook.com/CakesByOana/?fref=ts
Gisi Prekau
https://www.facebook.com/gisiprekau/?pnref=lhc
Zelda Scafidas
https://www.facebook.com/ZniqueCreations/?fref=ts
Carla Meijer
https://www.facebook.com/The.Power.of.Cakes/?fref=ts
Anna D'Alessandro
https://www.facebook.com/sassycakecreations/?fref=ts
Carla Puig
https://www.facebook.com/carlapuigsugaratelier/?fref=ts
Ghada Elsehemy
https://www.facebook.com/ghadaelsehemy/?fref=ts
Jamila Jankipersadsing
https://www.facebook.com/PureCakesbyMila/?fref=ts&ref=br_tf&qsefr=1
Marta Torres
https://www.facebook.com/TheCookieLab.MartaTorres/?fref=ts&ref=br_tf
Bouchra Lyna
https://www.facebook.com/CreationsGateaux/?fref=ts&ref=br_tf
Angela Morris
https://www.facebook.com/blossomdreamcakes/?fref=ts&ref=br_tf
Valentina Terzieva
https://www.facebook.com/ValentinasSugarland/?fref=ts&ref=br_tf
Catalina Anghel
https://www.facebook.com/catascakesvilareal/?fref=ts&ref=br_tf
Sylwia Sobiegraj
https://www.facebook.com/HavesomecakebySylwiaSobiegraj/?fref=ts&ref=br_tf
Michelle Chan
https://www.facebook.com/scrumptiousbymichelle/?fref=ts&ref=br_tf
Marta Hidalgo Jiménez
https://www.facebook.com/PeccataMinutaCakeArtist/?fref=ts&ref=br_tf
Kathy Gain
https://www.facebook.com/Kaths-Cakes-369485736483786/?fref=ts
Marianne Daubner
https://www.facebook.com/Zuckerwelt/?fref=ts&ref=br_tf
Ana Mourinho Remigio
https://www.facebook.com/byAnaRemigio/?fref=ts&ref=br_tf