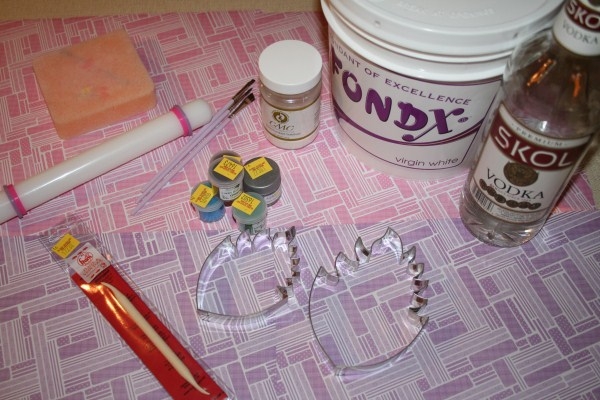 A wedding cake request for edible peacock feathers prompted this tutorial. I was ready to place my order online, when I discovered my vendor was in the heat of a big move.
I searched the internet and found several different ways to create these feathers, gumpaste, edible prints, rice paper and for my project I decided to use Fondx with a touch of tylose.
Here are the materials you will need:
FonxdX or any type of fondant
Peacock feather cutters – I used these from Global Sugar Art
Various colors of Luster Dust (Gold, Peacock Blue, Purple, Emerald Green, Black)
Real Peacock Feather to use as a guide for painting
Various paint brushes
Vodka for painting
Foam flower block
You'll also need paper towels and some Styrofoam for drying
1. Knead the fondant with the tylose powder and let rest at least ½ hour.
2. Roll the fondant out to a thickness of 1/8 of inch, and cut your feather with cutter. I lay my fondant over the bottom of the cutter and use my rolling to pin to cut the shape over the bottom edge for a crisper edge.
3. Lay the feather on the foam block, and use the veining tool to make the lines of the feathers. Place your feathers on your foam pad. Starting on the front side from the center, pull out with your veining tool all the way to the outside edge. Add lines and dimension, be sure to pull the tool out past the edge to soften the edges of the feather. Repeat on the other side. Upon completion, lay your feather on a crumpled paper towel or napkin for added dimension and let dry completely. You don't want them flat.
4. Now here's the fun part. Once your feathers are dry, arrange your palette of luster dust and small amount of vodka (or other grain alcohol) and mix your paints, and start painting. I started from the center using my peacock feather as my guide. Afterwards I used a light dusting of dry gold luster dust to bring the colors together.
Here are the completed feathers.
And here they are on the cake.
Get the best deals on fondant and fondant tools now! Click here!