Cake Idea – Chinese Tree Peony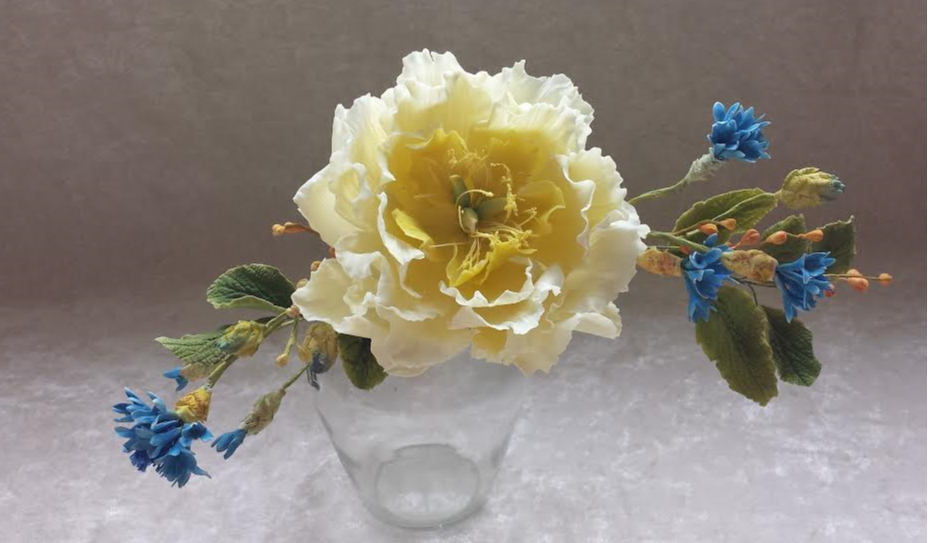 By Shaile Socher
Supplies and Tools
Wire 20g, 24g 26g,
Gumpaste pale Lemon Yellow (Americolor)
Tear drop cutters (Ateco)
Egg white, Crisco, cornstarch
Silk Veining tool (Jem)
Dusting Colors Cosmos, Pink, Magenta (CK Products)
Yellow Cornmeal
Yellow Cotton Thread
Flat angled paint brushes (Michaels craft store)
Green floral tape
Celboard
Celpad
Rolling Pins
Plastic flap
Pallet knife
Steamer
Apple or avocado trays
(for more product information scroll to the bottom of the article)
Stigma
Step 1
Roll a small pea size ball of gumpaste into a pointed tear drop. Insert a hooked 26g wire dipped in egg white into round end molding around the base to thin out slightly. (You will need 3)
Step 2
Shape the tip into a point inching one side flat from the tip to about half way. Curve that flat piece over slightly. Stand in Styrofoam to dry completely.
Stamens
Step 3
Wrap yellow cotton thread around 1 finger about 25-30 times. Put a hooked 26g wire around one end pinching it together. (you will need 3 groups or you can purchase ready made stamens)
Step 4
Wrap ¼ width white floral tape from the top over the hooked wire down a way. Cut the thread in half. Dip the ends into egg white then into yellow cornmeal gently shaking off excess. (Note : leave some in clusters stuck together).
Allow to dry.
Petals
(5 petals for first 2 layers and 7 for the last layer)
Step 5
Roll out gumpaste on grooved celboard fairly thin. Cut the petals out and place under plastic sheet while working on them. Insert a 26g wire dipped in egg white.
Step 6
Work on the celpad using the thinner end of a Dresden tool to pull the edges out fringing the tips. Add texture to the entire petal with Silk Veining Tool by rolling it back and forth. Do not widen the petal.
Step 7
Place the petal along the edge of the celpad to work on the frilled edges with the Silk Veining Tool. Roll it back and forth in small sections working along the edge of the petal to frill. This will smooth out the roughness of the fringed edges.
Step 8
Lay the petal on an apple or avocado tray shaping each petal to show movement. Allow to dry overnight.
Petal Dusting
Step 9
Dust the tip of the Stigma with Daffodil yellow, dusting the rest of the stigma with prairie green.
Add Daffodil petal dust to the base of the petals about half way up on the first layer only. You can add petal dust to the remaining layers if you choose, but don't add it to the ends. They should be lighter in color.
Assembly
Step 10
Tape the 3 stigmas together with the points facing out to a 20g wire.
Tape the 3 groups of stamens around the stigmas.
Step 11
Tape the petals from small to large in groups of 5 per layer with half width floral tape.
Finished image:
I have always been artistic creating things with a lot of detail. By chance I ended up in cake decorating taking a class for fun. It was at an ICES convention I first saw sugar flowers which began my love of this sugar art. It took just one class to get me hooked then after a series of classes with Nicholas Lodge I continued practicing and learning what became my passion. I teach sugar flowers.
You can reach Shaile at www.shailesedbileart.com, www.shailesedibleart.blogspot.com or www.facebook.com/ShailesEdibleArt.