Stollen Wreath Cake Bun
Learn how to make this stollen wreath cake bun with easy step-by-step instructions to help you serve up this crowd-pleaser at every holiday celebration.
Stollen Wreath Cake Bun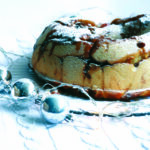 This recipe has the structure of a British Chelsea Bun and the flavor inspiration of a Stollen wreath cake. The wreath symbolizes eternity as it has no beginning and no end. Don't be put off by the sound of the 'flying sponge'; it just helps aid the sponge fermentation of the enriched dough. Even though this does take a bit of time, it is well worth the effort.
Make the filling the day before so that the flavors can fully absorb. This filling recipe is really just a template; you as the baker can add your own spice mixture and filling choices.
Filling
100 grams chopped roasted almonds
200 grams glaze and dried fruit cherries, angelica, raisins, etc.
Zest and juice of 1 orange
50 grams marzipan cut into cubes
2 tablespoons brandy
Ground spices: 10 cardamom pods 2 tablespoons cinnamon, 2 tablespoons ginger, black pepper
4 cloves
Mix all the ingredients and leave at room temperature overnight.
Flying Sponge
200 grams white bread flour
20 grams fresh yeast or 10 grams easy blend yeast
270 milliliters wate
Mix together and stand at room temperature for 30-40 minutes
Dough
300 grams white bread flour
10 grams salt
75 grams unsalted butter, plus a little extra
75 grams castor sugar
480 grams flying sponge
Added filling: 70 grams melted butter and 70 grams brown sugar.
In a bowl mix together the flying sponge, salt and flour. Once combined add the butter and sugar and knead for about 10 minutes until fully incorporated and the dough is silky. Alternatively, mix with a dough hook in a freestanding mixer.
Lightly dust the dough with flour and leave to proof in the bowl, covered with a plastic bag for 30-40 minutes or until doubled in size.
Grease a Bundt tin or line a baking tray.
Turn the dough out onto your work surface. Roll into a rectangle about 12 by 18 inches. Paint the surface with the melted butter, then sprinkle with the brown sugar and finally spread over the filling. Roll from one of the longer sides into a Swiss roll. Cut into 1-inch sections.
Lay the swirls in the tin or on the tray. Cover again with the plastic bag and leave approximately 35 minutes or until doubled in size.
Bake at 180°C for approximately 35 minutes or until it springs back to the touch. Allow to cool and to serve dust with icing sugar.
If you'd like to read more about the history of stollen please read this article.
[content-egg-block template=offers_list]