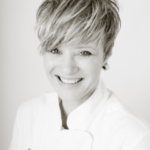 Dorothy Klerck Dorothy was most recently a nominee for Most Inspiring Sculptured Cake Artist in the First Annual EAG Awards. Dot hails from Wellington, South Africa and honed her skills in art and sculpture before falling head over heels into the sugar world. Now an award winning cake artist, she started out making cakes for her 4 children and from there it became her business. Her cakes have been featured on television, both locally and internationally and in many international cake magazines and art books over the years. Starting out with unique hand modeled toppers she now specializes in 3D sculpted…
Simple fondant cake studded with edible blue stone lace. On top of the cake is the handcrafted figurine of the pretty lady.
The two tier personalised 74th birthday cake is covered with green fondant and decorated with a bungalow image, of where the birthday boy lives, surrounded with trees and flowers. The cake toppers are handcrafted figurines of the birthday boy with his grandchildren, pigeon, cat, dog, mobile, book and his favourite drink.