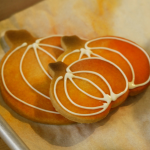 These adorable pumpkin patch cookies were contributed by Chef Jörg Amsler Chef Jörg Amsler Autumn, with its stunning colors as the trees get ready to accept our harsh winters, attracts people from all over to New England. We call them leaf peepers. Along with nature changing its season, we have a wide variety of great seasonal fruits and vegetables coming into their peak for harvesting. Fresh apple and pears, cider and fresh apple cinnamon donuts. There are every kind of squash and gory looking, colorful gourds. But my favorite thing to do is drive along farms with hundreds of giant…
Hand carved pumpkins then air brushed, air brushed design on tiers and hand made gumpaste flowers!
Hand made flowers, pumpkins, and air brushed designed. Made to look like the top tier is falling off the pumpkin!