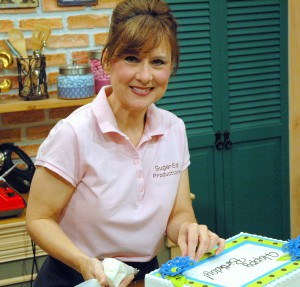 Looking for Cake Ideas School?
A Lifetime Worth of Cake Decorating Instruction in one friendly community
Sharon Zambito has put together something different – a cake ideas school! How about exclusive start-to-finish instruction that answers all your questions as it sparks your creativity? And a supportive community that's all about the art and fun of cake decorating for both hobby and business. The site offers:
VIDEO TUTORIALS
Full library of professionally filmed, full length, HD videos featuring Sharon and celebrity instructors. 24/7 access from any device.
PHOTO TUTORIALS
Printable photo tutorial library with hundreds of amazing projects from cakes to cookies, flowers, figures and more. Fully step-by-step.
RECIPES
Printable recipe bank chock full of deliciousness showcasing tons of recipes for cakes, fillings, icings and more. Add your own too!
ARTICLES
An entire library of printable articles on baking, business, photography and decorating that you won't find anywhere else.
FACEBOOK GROUP
Private Facebook group for SugarEd members only. You can share your work, and get support from Sharon and other members.
WEEKLY TUTORIALS
New full length tutorials are added each and every week. Sharon sends a weekly newsletter so you always know what is new.
PHOTO GALLERY
Member photo gallery where you can post your own photos. browse for ideas from thousands, and ask questions of the creators too.
GAMES AND RAFFLES
Enjoy games, contests and other interactive activities within the SugarEd community. We keep caking and baking fun!
Visit them today! https://www.sugaredproductions.com/