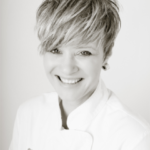 Dorothy Klerck Dorothy Klerck (Dot) hails from Wellington, South Africa and honed her skills in art and sculpture before falling head over heels into the sugar world. Now an award winning cake artist, she started out making cakes for her 4 children and from there it became her business. Her cakes have been featured on television, both locally and internationally and in many international cake magazines and art books over the years. Starting out with unique hand modeled toppers she now specializes in 3D sculpted cakes, the more gravity defying the better. Dot travels around the world teaching sugar craft…
A 100% edible 20" tall MOET Champagne in ice bucket cake personally handcrafted by me for my husbands 40th Birthday Party. The edible bottle of champagne sitting in edible ice-cubes, was a hit at the party. I hope you like it too!
Ruffled Dress Cake This bride actually had 5 wedding cakes, but this was her main cake. It is made to match her wedding dress, with her glitter beading detail and ruffled bottom!